We buy and sell Krugerrands at competitive prices.
As on Thursday, 22 August 2019
GOLD: $1,295 per oz R14,49 (R/$ Exchange)

KRUGERRANDS

WE BUY AT

1 Ounce

R 19,000

1/2 Ounce

R 9,380

1/4 Ounce

R 4,690

1/10 Ounce

R 1,870
Fluctuations in the gold price and the R/$ exchange rate will impact the day-to-day pricing.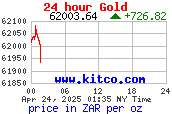 Payment for Krugerrands are in CASH or Electronic Fund Transfer(EFT)
Serious Sellers are welcome to contact us for additional information.
KRUGERRANDS DEFINED
The concept of Krugerrands was first presented by the South African Chamber of Mines way back in the 1960s to stimulate physical gold as an investment opportunity for anyone who wanted to own this scarce commodity. The Krugerrand is known today to millions of people all around the world and has been one of the top choices for investment for years. Krugerrands are ounce-denominated gold bullion coins and there are around 46 million of them in circulation.
It's one of most circulated, valued coins and can be easily bought or sold because they are minted as Legal Tender coins and is not VATable;
SO HOW PURE ARE KRUGERRANDS?
Krugerrands(22 carat) contain about 11/12 - 24 carat gold(AU) and 1/12 copper(CU).
They are alloyed with a small amount of copper, which make them 22-carat coins. The main reason for using copper is to strengthen the coins and to make them more robust and durable.
SOME OTHER FACTORS TO TAKE INTO CONSIDERATION WHEN BUYING THEM
Internationally recognition – It's one of the world's leading brand names and only issued in South Africa. Coin Dealers and banks around the globe know it, and it can be bought and sold easily. The Krugerrand was first released in 1967 as a legal tender coin and contained exactly 1 troy ounce of fine gold.
Investor's choice – Tax-free. Designed for the person who wants to invest in gold and available in four different sizes (1 oz, ½ oz, ¼ oz, and 1/10oz), making it more affordable to more people.
International Priced - The Gold price is quoted internationally in troy ounces and its value can easily determine based on the market outcome.
Durable/Portable – They are hard enough to resist normal scratching and bumping, because of its composition of 22-carat gold. Valuable, yet easy to transport and store anywhere.
Proud South African product – It's minted and produced using South Africa resources. The
Rand Refinery Ltd. supply gold coin blanks to the South African mint to produce them.
Krugerrands are available in both bullion and proof state.
KRUGERRAND COIN SPECIFICATIONS
1 oz

22 Carat Gold

1/2 oz

22 Carat Gold

1/4 oz

22 Carat Gold

1/10 oz

22 Carat Gold

Mass (gram)

33.930

16.965

8.482

3.393

Diameter (mm)

32.96

27.00

22.00

16.50

Metal Content

Au 916.67 Cu 83.33

Au 916.67 Cu 83.33

Au 916.67 Cu 83.33

Au 916.67 Cu 83.33

Thickness **(mm)

2.84

2.215

1.8888

1.35
** Maximum dimensions